Joined

May 24, 2011
Messages

1,077
Reaction score

366
Points

83
Location
Website
Members Ride

Holden VE SS Ute
Alright I've seen a fair few threads in just the past couple days asking about vy/vz instrument clusters: how to fit them? Which ones can be fitted? And what is exactly required to be programmed. I know I've seen a few threads dotted around explaining how to remove cluster but this should cover EVERYTHING cluster related.
Since the document seems a bit large.. I have made Sub headings to search.. only a few but much quicker to find!
1. Cluster Basics
__
1.1 Clearing Service remind
2. How to take cluster out of car
3. How to disassemble Cluster
4. Custom fascia for Calias/HSV
5. Re-calibrating Dials
6. Programming requirements
7. Is my cluster/car Series1 or Series2!? (IMPORTANT!)
Cluster Basics
Starting with the basics, which is a VY/VZ cluster? And what clusters can go in which car?
A VY cluster will have a grey plug and VZ will have a blue plug.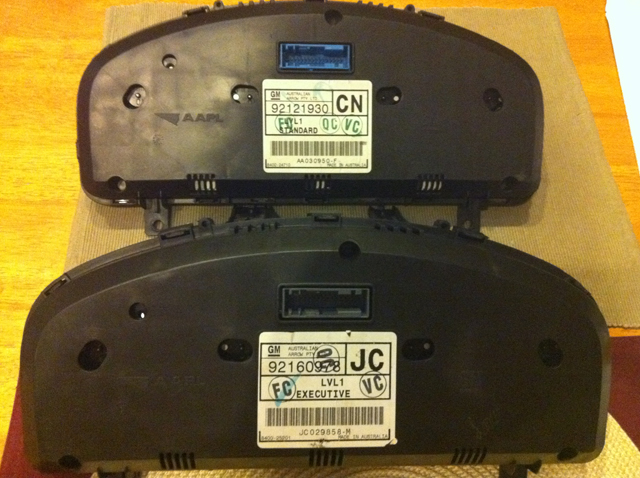 (VZ top, VY bottom)
For those asking.. can I put a VZ cluster into my VY?.. Simple answer is NO, much easier to go with VY's can only go in VY's and VZ's can only go in VZ's. Although this is not 100% true, cutting a VZ cluster wiring harness and wiring to a VY harness will work (mostly), but will have issues. I haven't done this but I can start the cluster on the bench with a fake fuel sender/speedo pulse and connect to communications line and only get couple errors but it still works. The VZ cluster pin layout is not the same as VY but they do use the same wire colouring for each component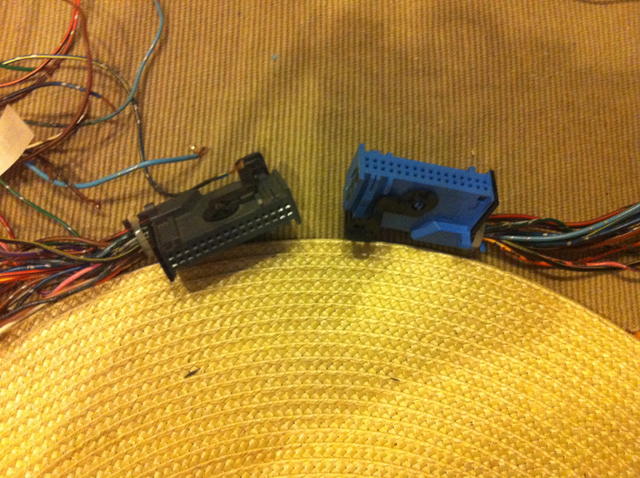 As for changing clusters between cars, HSV/Calais/berlina clusters can go in a basic level car and vise versa. All three screens will work and display more information but there is one or two modes that cannot be used completely, but for the most part.. 3lcd clusters look mint and great at night time! The down fall to swapping clusters is that most cases the cluster needs to be reprogrammed to suit v6/v8,auto/manual, airbag config, car series, fuel tank size but more details on that later!
Clearing Service Reminder
So Iv had a few requests on how to remove the service reminder? Can you permanently remove it? Or can the interval be changed?
Well yes, yes and yes. But again to permanently remove it or to change the interval you will need a diagnostic tool!.
To remove the reminder, it is as simple as holding down the "Up" and "Down" arrows and then turning the ignition on (dont have to start engine). You will hear a "Beeping", screen will then display "Would you like to reset reminder?", let go of the arrows and then hold down the "set" button until screen says no service reminder or alike.
(Will update with image later)
How to take cluster out of car
First let's look at How to take the cluster out:
Tools:
- Short Phillips head screw driver
- Container for screws (you know you will lose them otherwise)
What to do:
Firstly this should be your starting setup. Do not have your key on/ in the ignition and for those who are very safety inclined, disconnect the battery.. but this does not need to be done, I never have errors or issues by not doing so. IF you turn the key on without the cluster in.. you will get the infamous SRS warning.. so for the sake of being safe..best to probably disconnect the battery.
(dodgy photo.. grabbed from the net)
This is not necessary but I find it a lot easier to do everything and remove cluster by moving the steering wheel all the way down, pull the lever down under steering wheel to disengage and push all the way down, then lock back into place.
You will need to take the two screws out under the dash cover as seen in image, next put both hands on the cover and back backwards, this dash cover should come straight out.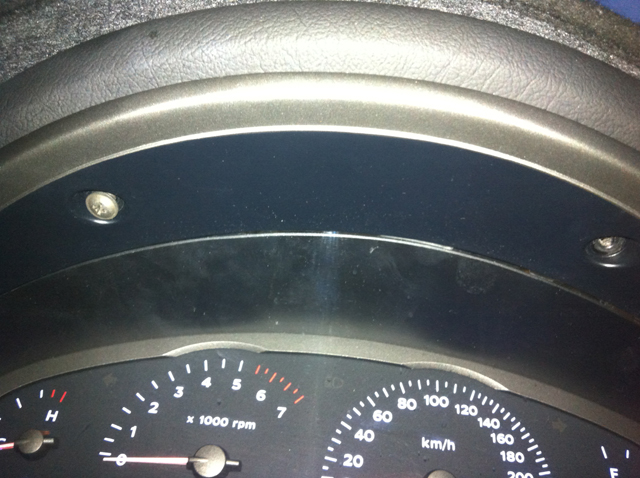 Youll have four screws to take out, be careful not to drop them as once they fall they seem to be lost forever in the dash!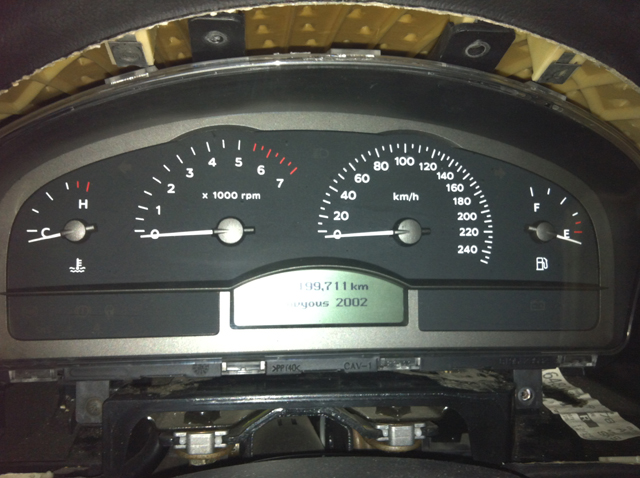 (Only got top left screw as I had the cluster out already)
Now is for the nail ripping part of disconnecting the cluster harness, some clusters are easy to unclip and others seem like they have been super glued.. if you can't do it with a small force, don't keep going! Use the screw driver to lever up the clip as seen in the image.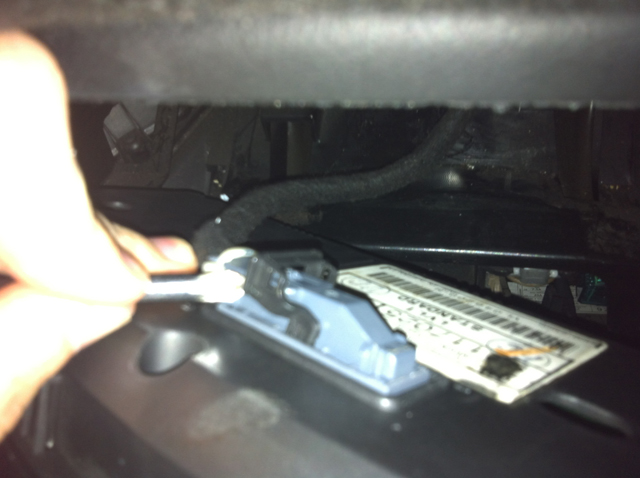 Great! You now have taken out the cluster of your car/ wrecked car. But what to do with it now? What needs to be done to fit it to my car?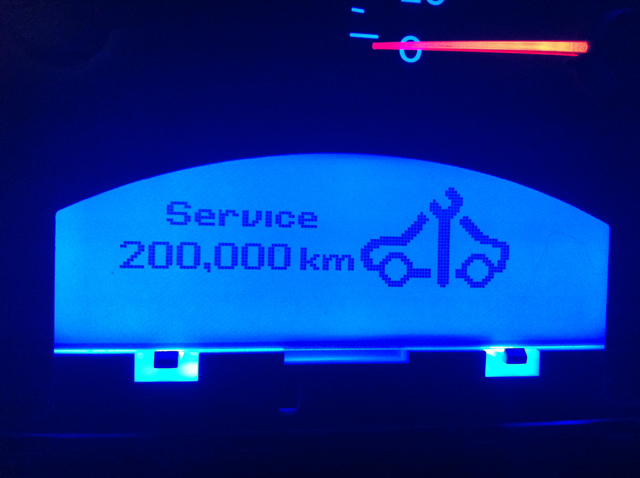 Keep reading to find the programming requirements!
How to disassemble Cluster
Next we will look at pulling apart the cluster to change the face/dials:
Tools:
- Small screw driver set
- two tea spoons (or a fork)
- Clean hands and some patience so nothing gets broken!
First part to come off is the clear plastic cover, this is the part most people snap the plastic clips, lets try to avoid this. The cluster has two safety plastic clips located on each side of the cluster.. these do not simply push in and come out! All of the others do though.
First, go around the cluster and push the plastic clips in and pop them just out of the black slots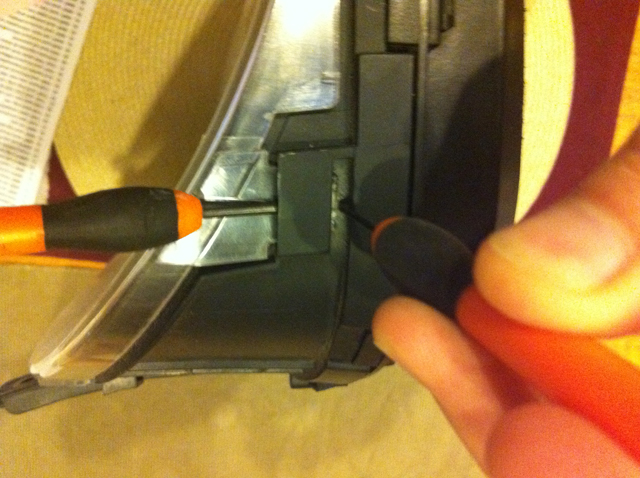 (looking down on left hand safety clip)
Grab a small screw driver and slot it slowly into the safety clip on one side of the cluster, I usually use a flat head so that once it's in I can rotate very slightly to lift the black plastic up. Use a second screw driver to push the plastic cover out. The clip should be free and the only one left should be the other safety clip. Do the same as before!
Once the other safety clip is out, pull the plastic off. I usually give it a good scrub with some windex or headlight cleaner (removes the scratches/stubborn marks).
Next unclip the black clips from the cluster body, nothing special here, just push to unclip.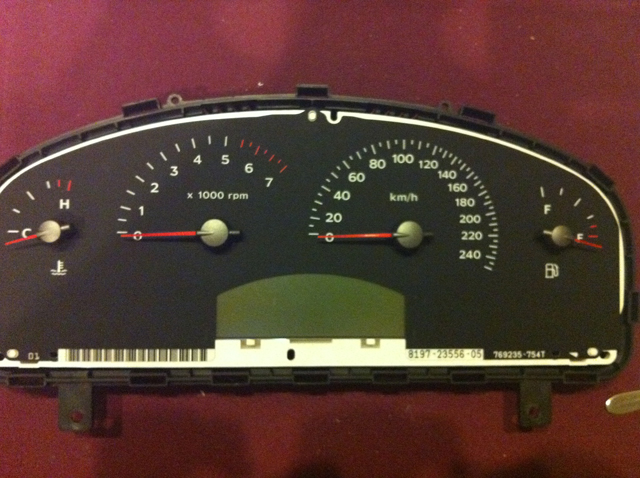 You now have access to the dials and dial face, try to avoid touching the face at all as it will mark your cluster and is VERY hard to get rid of.
Now if you are uneasy will recalibrating the dials by forcing the motors round, I tend to use sticky notes to place under the dials so I have an idea where they go, usually done have to recalibrate if I do this.. and no this does not mark your cluster (not the note pads I use at least). Please note that you don't need to do the note pads, can simple put the car into engineer mode to calibrate needles afterwards.
Make sure the two teaspoons are clean, then slide them under the dials as seen below..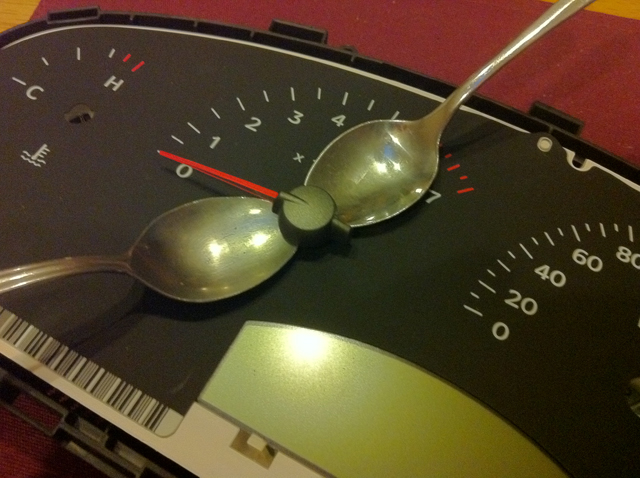 Very slowly lift the needles using equal force on both spoons, needle should slowly come up. Once all needles are off, the dial face can be taken off (only touch the very edges!). Put this down in a safe spot where dirt and dust cant get it.
Your cluster should now look like this..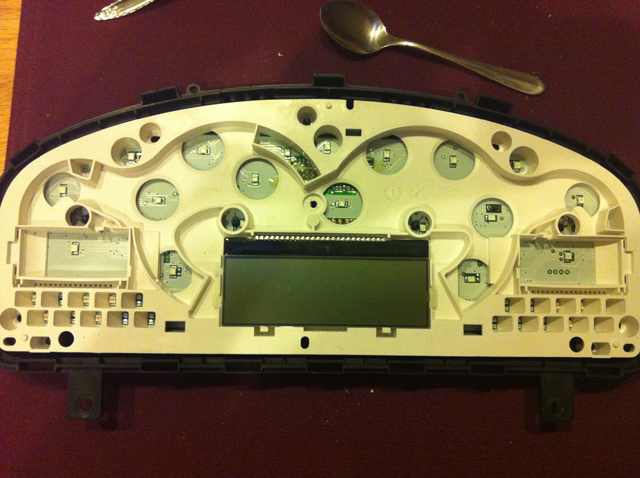 You can take off the cluster body using the special screw driver set (or a perfect fit flat had) but there is no real point for most individuals.
I probably should have said this at the start (hoping everyone read through this first), but you cannot use a sv8/ss/hsv dial face in a stock cluster or vise versa. The revs and speedo numbers do not match up. So why is that a problem? Each cluster is calibrated to is dial face,the compression ratio for the revs and speedo are specific to the face. Cannot simply move the needles to the new spot as the readings will be incorrect!
Custom fascia for Calias/HSV
I have seen a few people looking at putting in custom dial faces and dials, including cutting up SS dial faces for Calais/HSV clusters. So these are what we are looking at: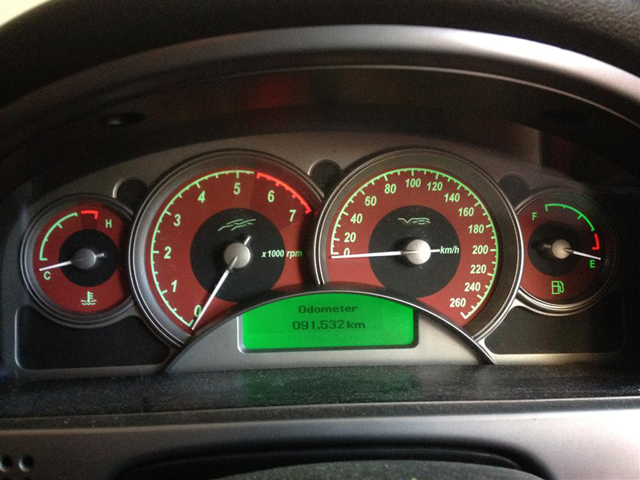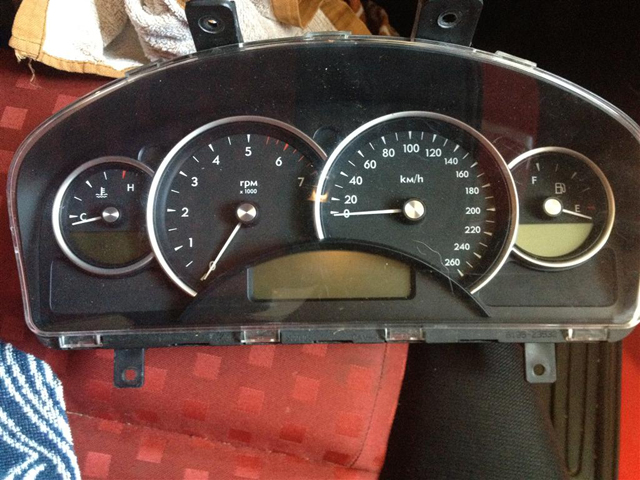 For those thinking of making a custom face for a HSV/calias cluster using an SS/SV8/VZ face as shown above, Ull need either a Stanley knife or scissors and a fine pencil. Place the new cluster dial face numbers down, next line up the calias/hsv dial face ontop of the first dial face (numbers down also). Use the pencil to mark out the two small windows on the left and right, Make sure the cluster is EXACLTY lined up!
Use the Stanley knife or scissors to cut the two windows out, I have found this much easier with the scissors but whatever works. Place the new dial face on cluster and enjoy! :beer chug: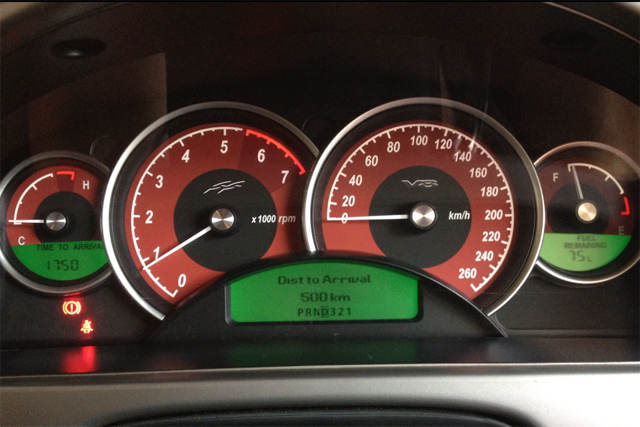 As you can see you lose the small icons below the temp and fuel. Just a fair warning there!
Now when reassembling, there seems to be a big fuss on putting the needles back on. Guys to be honest.. it's not hard at all! If you have the note pads like I do, line the needle up with the pad and push lightly on both sides of needle. Do not apply pressure to the plastic/glass needle part, only the solid plastic centre. I also find it easier using both thumbs to push very slowly on (see my hand placement). Push down til there is about 3mm of clearance
Re-calibrating Dials
Now that the dial face and needles are on (don't attach anything else!), its time to recalibrate the needles and make then accurate again! We will be using the clusters engineer mode for this. Plug the cluster into the car (connect battery if undone), put the key in the ignition, hold mode/set at the same time and turn the ignition on (do not have to turn engine over!). you should get a screen like so..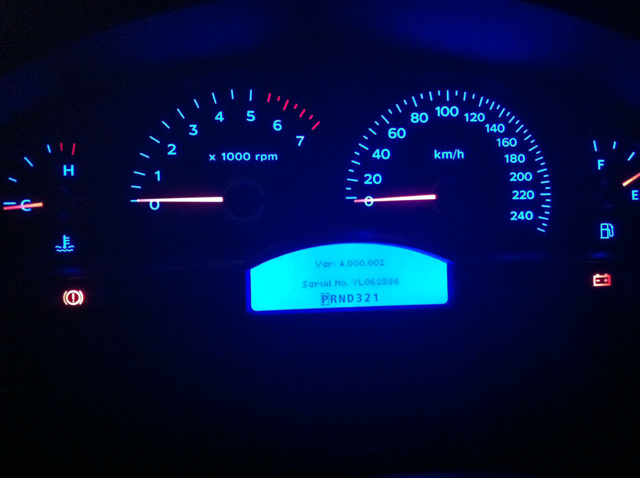 (bad picture, sorry guys)
Use the mode button to scroll through until you find the screen that has a constant beep and the dials move, the dials SHOULD be at the HALF WAY points of each dial. If they are not, then you need to calibrate the dials so they do. Follow the blow instructions to fix the dials!
All dials should be half way on each dial face.. eg fuel half, temp halp, speedo at 100, revs at 3. As you can see for the purposes of showing how to fix, my speedo dial is slightly behind 100, take notice of where all your needles sit if they are not on the correct markings!. To fix, turn ignition off, and spin the dial clockwise.. till it stops, put very small amount of pressure on the dial so that it moves slightly forward, spin dial back around and then it will be at a new resting position.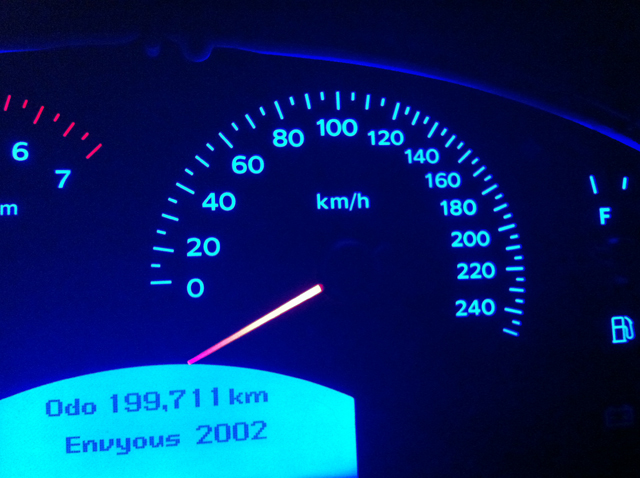 Repeat for all dials, note that you will need to spin the opposite way if the dial is infront of its required position. Move dials back to there original position (full anti clockwise). And start car back up in engineer mode and test for the needle alignment again. Repeat till dials are accurate!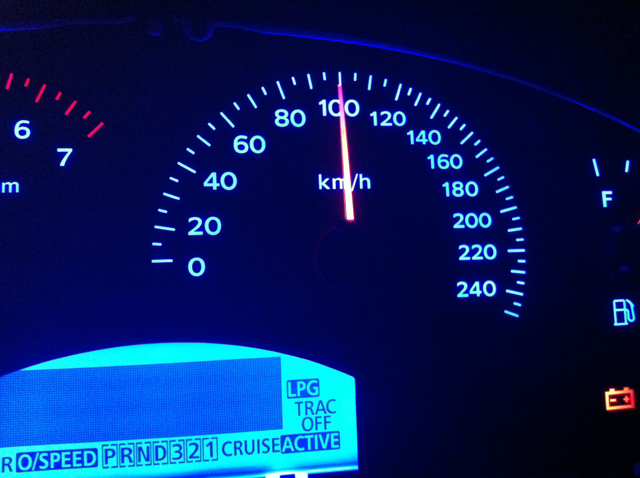 (Spot on Reading!)
Programming requirements
Now looking into the technical side of changing instrument clusters. For those going to change their instrument cluster with a second hand one, there are things you
should
get reprogrammed and aspects that you will more than likely
need
to get the cluster reprogrammed to get it to work correctly!
To reprogram the cluster correctly, the following needs to be updated:
- Odometer
- Engine Size (V6 or V8)
- Transmission (Manual or Auto, VZs also have 4spd or 5spd choice)
- Body Type (Sedan, Utility, Cabchassis ect)
- Series (1 or 2.. only applicable to VYs)
- SRS configuration (0,2,3,4 or 6 loop)
Its vital the SRS configuration is CORRECT otherwise it will cause the SRS warning to pop up! I still see this on a regular basis!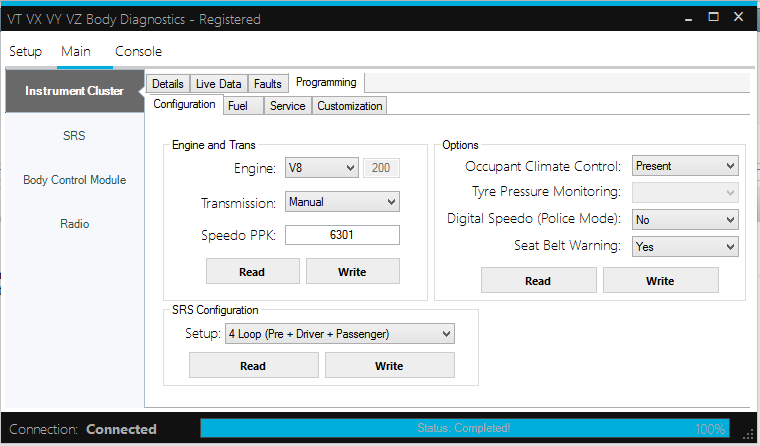 IF the incorrect settings are programmed in its connected to the car, the error will pop up and it CANNOT be removed with a scantool. Must be reprogrammed first before being cleared!
Another common issue is the v8/v6 configuration of the clusters. The values that need to be changed here are the PPK(pulse per kilometre) and PPR (pulse per revolution). For vy cars, v6 have PPR of 3 and V8's have PPR or 2. VZ cars are opposite.
The PPK deals with the speedo dial calibration, sometimes this needs to be changed and other times it doesn't, most V8's have a different diff ratio/wheels thus need to be calibrated when going into a V6, this value can range from 5400 to 6400 (or more), all depends on the aspects of the car.
As Im sure everyone knows by now, series 1 and series2 clusters need to get the fuel gauge calibrated so that the gauge moves in the correct direction!
While speaking of fuel settings, utes/sedans have different fuel calibrations as well as fuel tanks!. This can also be corrected by tech 2 but almost NO dealership knows how to navigate there tool!
As seen below, not only can the ohms to fuel volume be calibrated, but where the dial actual reads at a specific volume can be calibrated!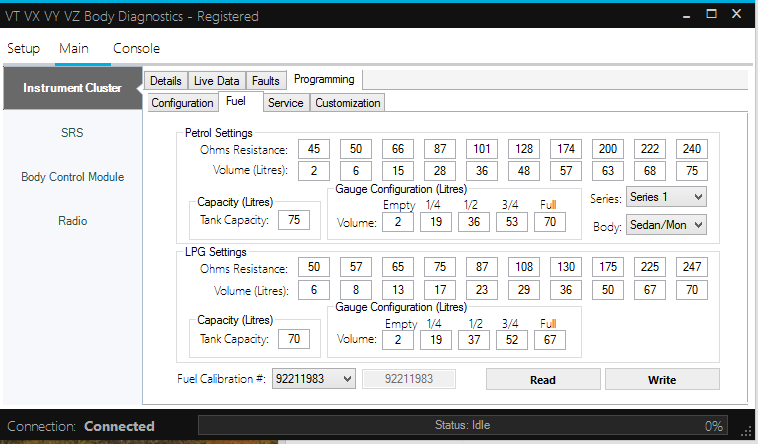 For those stating that a cluster must be calibrated for manual/auto, well it doesn't. The calibration the cluster for auto/manual is simple if the auto gears selection on the lcd screen is visible or not!. Doesn't need to be changed but it may throw a error here and there for manuals with auto config on.
So that sums it up for aspects that
need
to be corrected.
Now here are some that
Should
be corrected if you don't want to be done for
illegal
activity. The odometer should be reprogrammed to match your original clusters odo, a tech2 cannot do this as it is restricted to under 100kms. Also the serial number (6 digit number) that can be viewed in engineer mode, Should look like YLXXXXXX. This 6digit number should match you last 6 digits of your VIN number! If it doesn't.. its not your original cluster!The above is 100% true on VY's. Although Im yet to have a VZ that has had it match except a couple.
(can see serial# in engineer mode)
An easy way to avoid programming is make sure the car has the same airbag set up/same year/fuel tank size and is the same car type (sedan/ute).
Is my cluster/car Series1 or Series2
So I have been bombarded with questions regarding Series1 and series2 changes and also how to tell what you have!
Alright so the basics of S1 and S2 changes... If a S1 cluster is put into a S2 Car and vise versa, then the fuel gauge will work
upsidedown!
. If your thinking.. "Nah that wont be annoying", well it starts really nagging you if you dont change it, and it will be an interesting conversation explaining why it does that with the person you sell the car too!
So how to tell what series your VY is and
what series fuel sender is present in your car
if your unsure or want to be certain!?
Top your fuel tank up to the top and then open up the "engineer mode" (see open engineer mode if unsure how to).
scroll through the options until you find the menu stating "Fuel ohms".
This value provided decides whether your cars fuel sender is S1 or S2.
If your car is a
Sedan
, the Ohms reading is around
240-250ohms (Sedan)
then your car has a
Series 1 Fuel sender
thus need a Series 1 Cluster configuration.
If the Ohms reading is around
40-70ohms (Sedan)
then your car has
Series 2 Fuel Sender
thus needs a Series 2 Cluster configuration
If your car is a
Ute
, ohms reading round 165 - 240ohms is Series1 and ohms readin around 40-65 ohms is Series2.
Now anyone wondering why its so important to know what series fuel sender they have and not just what series there car is?. Because The early Series 2 cars used both Series 1 and Series 2 fuel senders (Yes, Annoying). So Its best being absolutely certain what your current fuel configuration is!.
Below is an example of a Series1 sedan Configuration, Notice how the largest ohms match the largest volumes, vise versa for S2.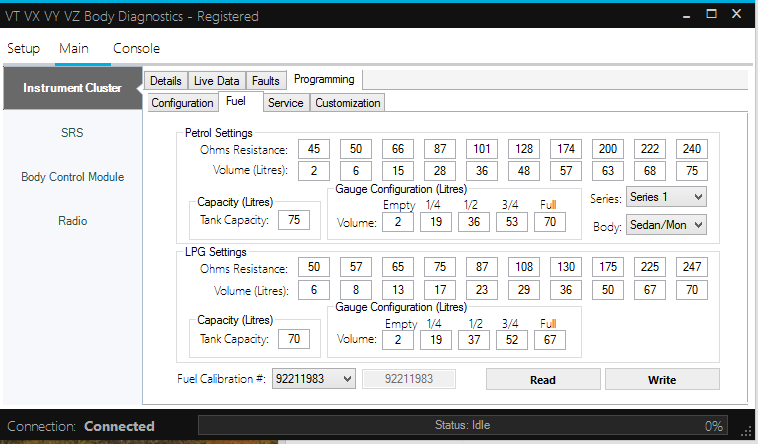 For now this covers the majority of instrument cluster related information for VY/VZ clusters. Feel free to let me know if I missed anything.
*Update
A few quick answers to the main questions Im getting:
Q: Can I turn the SRS light off permanently so it doesn't turn on and display the error every?
A: Not a chance, is no setting to disable this issue if there is a CURRENT problem in the car! For those doing custom installs feel free to pm me.
Q: I have a VY V8, do I need a ALDL cable or OBD2 cable? Everyone says I need a OBD2 cable?
A: Well you can have both, An OBD2 cable is for
ENGINE
related information
only
. Whereas the ALDL Cable lets you communicate to
everything else
in the car.
Q: I read that VZ's are only OBD2 compliant and do not use the old ALDL system, is there a special cable we need?
A: Take it from me, whoever is saying that.. hasnt actually played with the cars comms! No special cable needed, Just a ALDL cable is required. OBD2 is for engine related information only. ALDL lets you communicate to the SRS,cluster,BCM,ABS ect.
Feel free to give suggestions/ideas or things you would like to see in it.
Last edited: