Joined

May 24, 2011
Messages

1,077
Reaction score

366
Points

83
Location
Website
Members Ride

Holden VE SS Ute
Recently I just posted up a thread about ALDL diagnostics, for those interested check it out here:
Everything to know about aldl diagnostic cables
Now, theres actually HEAPS of information out there about OBD2 diagnostics, although it can all become a bit confusing since OBD2 isnt just one "language", theres actually a few different protocols that cars talk over. And there are so many OBD2 cables out there.. it can be hard to find which ones are reliable!
So here is another crash course in OBD2, cars supported, available software and some raw communication breakdown to define the difference between protocols!
:beer chug:
What is OBD2? Is it the same as ELM327?
This is a REALLY common question I get. So, OBD2 is the protocol (language) that pretty much all newer cars communicate over. It is used to communicate to all the modules in the car and allow scantools such as the tech2 to request specific information such as faults and even allow clearing them!.
OBD2 isnt just one "language", it has multiple different protocols.. think of it like being able to speak English, Chinese, Japanese . Each of these languages "sound" different although the exact same information can be sent through if "spoken" correctly.
So, an ELM327 is a diagnostic cable that can communicate over ALL of these protocols (languages). Meaning whether your car speaks VPW, CAN 11bit or CAN 29bit, the ELM327 will be able to communicate over all these protocols.
Which Holden Commodore models use OBD2?
So pretty much all V8's (LS1) will require an ELM327 cable to read engine related information. But heres a list of commodores supported:
VT (V8 Series2 - VPW)
VX (V8 - VPW)
VY(V8 - VPW)
VZ (V6/V8 - CAN11 and CAN29)
VE (V6/V8 – CAN11 and CAN29)
Just to be clear, the OBD2 protocols used in commodores are: VPW, CAN 11bit High, CAN 11 bit Low, CAN 29bit High, CAN 29bit Low.
*Note, CAN high and CAN low are the same protocol.. just one speaks much quicker than the other!
Also note, that VT,VX,VY,VZ V6/V8 also communicate over ALDL for everything EXCEPT engine data.
What other electronics/modules in my car use OBD2?
For Holden Commodores VT,VX,VY LS1 V8's and VZ V6/V8, these only use OBD2 to communicate with engine related data. But use ALDL to communicate between everything else in the car eg radio,cluster,climate control, bcm ect.
Whereas the VE (and I guess VF) only use OBD2 protocol.. and to be specific, they will use CAN 11bit/29bit on both High and Low speeds to communicate absolutely everything in the car even including little messages that pop up on the instrument screen!.
Available OBD2 engine/tuning data software
Now to get things straight, you CANNOT tune your car with an EM327 cable… Well.. not yet at least. This sort of information is heavily under wraps as the big tuning companies don't want there prized possessions (tuning cables) to be massed produced at a small cost. ELM327 has the correct "language" to do this.. but lacks the "power" to send large amounts of data.
But as for available diagnostic software..theres alot of useless, rubbish software out there! Many of which cant read Holden faults codes! But there is a couple "good" software solutions:
<strike>-EasyOBD2 (free!)</strike> Developer prevents normal elm327 cable now. Cant read Holden specific info either.
-TouchScan (Paid.. but has free trial, give it a go!! Cant read Holden specific info either!)
-
Software on ELM Street (SOE)
(Can read Holden Specific faults codes and Holden specific engine data!)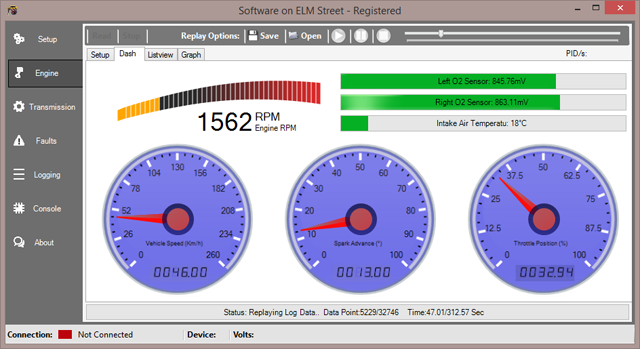 Iv had great use of TouchScan.. simple and easy to use. Supports a whole bunch of protocols for multiple vehicles! But, it cant read out Holden specific fault codes of engine data parameters
Software on ELM street though has been developed by myself, and is dedicated to Holden commodores only meaning it will read all Holden specific information including fault codes and engine data!
Where can I get a cable from?
Now here comes the MOST important part! There are soooooooooooooo many elm327 cables out there made in dodgy Chinese factories.. that A LOT of them don't even work.. or struggle to even connect to the software!
I have now bought over 30 cables, between 6 different vendors, I can say that 6 of these cables don't work, and funny enough, it seems I have 1 dud cable from each supplier! So there is no guarantee that you will get a fully functioning cable if buying the most expensive cable or buying the cheapest cable. They are all Chinese clone ripoffs, that have had there version numbers hacked to the latest version (v1.5)
But my recommended sources are:
Scantool.net
(VERY high quality cables.. ALOT more pricey)
From myself (Includes SOE License)
*Be Aware of Not All ELMs are the same!*
The $6 ebay specials will not work well. They take weeks to come, then cause hours of grief when trying to get them to connect reliably in car! If you want to purchase an ELM from ebay or similar, pay the extra, and you will receive a unit that has been built better and will cause ALOT less grief!
How about the Bluetooth ELM327 Cables? What about Mobiles?
In short, No, just don't even consider it! The Bluetooth ELM327's are hack jobs of the original USB version. They are VERY unreliable, have buffer issues and even have simply connection issues!
I know it is convenient to use your iphone/android.. but same yourself a headache and just get a usb ELM327 cable for the laptop and use that!
If you are convinced on using a Bluetooth ELM327.. I can only recommend getting a Bluetooth device from:
Scantool.net (more pricey, but wont have any issues!)
I know some people have had good luck with bluetooths, I simply havent! And as a software developer, they are a nightmare to get working correctly!
How to use the recommended software
Heres some youtube videos using both SOE and TouchScan!
Software on ELM Street Demonstration and Setup
[YOUTUBE]xYfLMOc4B0w[/YOUTUBE]
ECU Unlocking using "Unlock My ECU"
[YOUTUBE]FQg0G4p-onY[/YOUTUBE]
TouchScan Demonstation
[YOUTUBE]9n3K9S7zDME[/YOUTUBE]
OBD2 Messages Breakdown
In this section we will be covering VPW, CAN 11bit and CAN 29bit.
-VPW
So here is an example
Send:
68
,
6A
,
F1
,
01
,
PID
Receive:
48
,
6B
,
10
,
41
,
PID
,
Data(up to 5 data bytes)
Looking at the "send" frame, our frame is composed of a header, mode, and data (in this case the PID).
The header is "68,6A,F1". Every message has a header as this describes the message priority, its destination and where is came from.
The priority byte (
68
): This is the frames priority, generally this will be set to 68.
The Destination (
6A
): This byte describes "who to send to", this is a device ID and in this case 6A represents a "general" request. If requesting the PCM (engine), we would use 10.
The Sender (
F1
): This byte describes "who sent it", in this case F1 represents a scantool (us).
The mode is designated by the 4th byte (
01
), in this case 01 means "read PID" (Parameter IDs). PID's are used to request what data we want back eg Engine temp, speed, rpms ect.
And finally the
PID
, this could be 01,05 010A ect. Each location (number) represents a specific data to be returned from that requested module. Eg Sending a PID request of 05 will send back the Engine temperature!
Now looking at the "received" frame:
48
is the priority.
6B
is the destination (us), this could also be F1 as this is out device ID for the scantool
10
is the sender (PCM/Engine)
41
is the "mode" response, it is always the mode (01) + 40. Thus 40 + 1 = 41.
PID
is the PID that we have requested eg engine temp
Data
which will contain out requested PID's data.. which might be hex 56 = decimal 86 degress.
-CAN 11bit (High and Low)
The General format is:
Header bytes (11/29 bit) - Data Bytes (8 total) - Checksum
And header for 11bit: XYZ
Example 11bit frame:
7E8
06
41
00 BE 3F B8 13 00
Where the
7E8
is the ID to talk directly to that device eg processor for coolant ect.
06 is the about of data to follow
41 is the answer to a mode 01 request (0x40 + 0x01 = 0x41)
00 BE 3F B8 13 00 = the data to be interpreted!
-CAN 29bit (High and Low)
The General format is:
Header bytes (11/29 bit) - Data Bytes (8 total) - Checksum
The header for 29bit: VV XX YY ZZ where the last 3 are normal header (as seen on VPW) and VV is CAN priority byte.
Thats it for now!
Hopefully iv cleared a bit of confusion for OBD2 diagnostics!
If I missed anything, need more explanation/examples or are confused, let me know and Ill help where I can!
Cheers,
Taz.
:beer chug:
Last edited: